Click here to learn more about my "55 Things" and here to view previous posts in this series.
Today, November 1, being All Saints Day seemed like an appropriate day to share this post.
It's only been in the past year that I have received information about my family tree on my paternal grandmother's side and in doing so found that one branch stems from the Montreal and Quebec regions of Canada. Much of the information is names and dates but there are few stories about notable people. One such person is a Great (x8) Aunt named Jeanne LeBer.
I've thought about the story of Jeanne often this year as we struggled with imposed quarantines and were instructed to socially, or at least physically, distance ourselves from others. At times I have found myself resenting having to make such sacrifices and would wonder about this woman who chose to live her life as a recluse
According to https://margueritebourgeoys.org/en/jeanne-le-ber/:
"Jeanne Le Ber was born in Ville-Marie (Montreal), on January 4, 1662. Daughter of Jacques Le Ber, a wealthy merchant of Montreal, and of Jeanne LeMoyne, Jeanne LeBer was also the goddaughter of Paul de Chomedey de Maisonneuve, founder and governor of Montreal, and of Jeanne Mance, foundress and administrator of the Hôtel-Dieu Hospital.
From her earliest years, Jeanne was attracted to Jesus in the Blessed Sacrement, an attraction which grew ever more powerful and was accompagnied by a deep desire for silence and prayer.
When she was eighteen, she obtained from her parents' permission to live as a recluse in her family home. Completely withdrawn from the world, she left her home only to go to Mass. On August 5, 1695, at the age of 33, she made her reclusion more complete. She left her family and withdrew into the house of the Sisters of the Congrégation Notre-Dame where Marguerite Bourgeoys and her Sisters welcomed her with great joy. There she lived in a tiny room behind the altar of the chapel.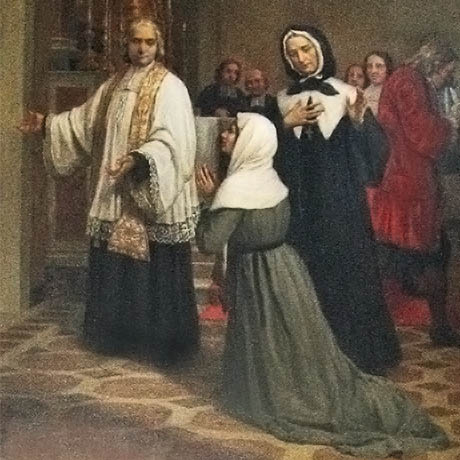 As a benefactor of Ville Marie, Jeanne gave away her fortune over the years, assisting the poor, the churches and the Congregation of Notre Dame. She made clothing for the most needy and provided for the schooling of disadvantaged young women.
Her life now was now one of continual hommage to Jesus in the Blessed Sacrement, in union with the Virgin Mary and the Angels. Between her hours of adoration and rest, without cessing her prayer, she sewed and embroidered church vestments and worked for the poor.
Her church vestments and altar ornaments, embroidered with gold, silver and bright coloured threads, reflected her intense life of contemplation as well as her appreciation of the beauty of nature and of God's creation. She is at the origin of the Oeuvre des Tabernacles which is still active today. (4120 Vendôme avenue, Montreal, Quebec, H4A 3N1)
Her contemplative life has been an inspiration to the Recluse Sisters a religious congregation founded by two former students of the CND.
Far from being indifferent to the outside world, she brought the concerns and suffering of her contemporaries to her fervent prayers. She prayed especially for peace in a war-torn country.
She died on October 3, 1714 at the age of 52 years "in great odour of sanctity."  The entire population of Montreal attended her funeral there to pay their last respects."
The article found here  refers to her as a "native Canadian Saint".
While I find myself admiring her decision, her dedication and her devotion, I can't even begin to imagine living such a life of isolation. I am humbled.